Content creation
Content marketing is becoming a very powerful tool, and anyone who does not use it loses customers. We will create engaging content for you that will be useful for your target audience and will make them search for your website. As a result, we attract visitors to the site, which can easily be transformed into customers.
We can publish articles to your system and, if necessary, help with the creation of a Wordpress magazine. Articles can also be used for a business blog or business magazine, please contact us for more information.
It is best to publish the articles on a regular basis each month, only to yield long-term results.
Examples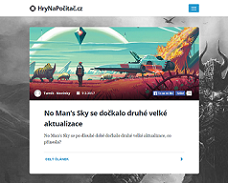 Computer games
www.hrynapocitac.cz
The magazine from the world of computer games, which provides interesting information to all game players in the long term. It also creates a community around games. It has a great reach and is well-read for a long time. Content is very successful on social networks and also brings traffic from search engines.
Price list
| Service | Price |
| --- | --- |
| Creating 1 article | 50 EUR |
| Creating 5 articles | 250 EUR |
| Creating 10 articles | 500 EUR |
Back

Link building services
Contact
Jan Pospisil
Na Brevnovske plani 1299/23, Prague
Czech Republic, IC: 86989782
E-mail: info@linksqueen.com
FAQ
What to do when I need advice?
Feel free to contact us with any queries regarding our services on the above contact details. We always respond promptly.
How can I order the fastest way?
To order, you can use the online form on the order page page or send it to our e-mail address. We'll start building links as soon as possible!